PRODUCT INFO
@Work Brochure

(5.9 MB)

@Work Price List

(374.2 KB)

@Work Mech Adjustments

(485.6 KB)

Environmental Data Sheets

(60.8 KB)

@Work AutoCad 3D Files

(2.0 MB)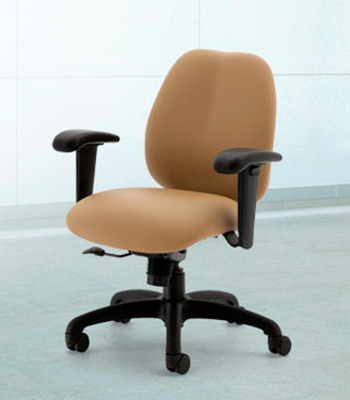 WORK WITH OPTIONS
*The entire @Work collection will be discontinued on September 1, 2016. SitOnIt Seating will no longer accept orders after August 31, 2016.
The @Work task chair and stool let you mix and match seat and back options for an office solution as customized as your dream team. Featuring Hector Coronado's sculpted design with multi-layer seat cushioning, @Work is a custom fit in collaborative workspaces, meeting rooms or offices.

2 seat widths and 2 back heights

Back height adjustment

Visco-elastic gel foam cushion

Waterfall seat

CAL 133 approved models
250 lb. weight capacity; 350 lbs. on Heavy Duty 24/7 option
Lifetime Warranty

1,000's of textiles ship in 2, 5 or 10 days

Mechanisms
CHAIR
Choice of swivel tilt, posture back, intensive, knee tilt, enhanced synchro or multi-function
Seat depth adjustment

STOOL
Posture back mechanism for stool and extended stool
Basic mechanism for heavy duty stool
For instructional videos on mechanisms, see the Adjustments tab.
Materials
Thousands of textile choices
Ballistic nylon upholstery
Arms/Casters/Frame Finishes
5 arm styles include loop, height adjustable and height/width adjustable with pivot
Brushed aluminum base
Additional Options
CHAIR

250 lbs. weight capacity

350 lbs. weight capacity for Heavy Duty 24/7 option

5 seat sizes
4 back sizes including 2 with padded headrest

STOOL
250 lbs. weight capacity

350 lbs. weight capacity for Heavy Duty 24/7 option

Hector Coronado
Hector Coronado is an internationally recognized designer with works featured in the Museum of Modern Art (MOMA) permanent collection. Dedicated to unique furniture design, Hector holds patents for innovations in bentwood lamination. His timeless, sculpted design has earned him awards internationally.