The 3 Ways to Win When Creating Collaborative Spaces:
How our quick, complex work is changing what we need to succeed
"As knowledge and creative work have become more complex and interconnected, people today report spending less time working alone and more time collaborating, socializing, and learning." - Gensler's U.S. workplace survey 2019

Collaboration is the driver of all drivers in a world that yearns for disruption. We often face common problems that require uncommon solutions. And because we're all moving so fast, collaborative work becomes fundamental to success. With the right energy and space, our ideas have a chance to clash, mesh, and re-form as better, brighter ones. The question is: how do we make the space for it in a quick, complex world?
The rise of flexibility and the gig economy
Our work is getting quicker and more complex while pushing the limits of available resources. Every day, we do more to communicate, coordinate and connect across an array of departments, fields, roles, responsibilities, etc. Plus, increased competition from growing markets compounds the need to respond.
With 50% of employees currently working away from the office 2-3 days out of the week and 50% of the U.S. workforce predicted to be "gig" by 2027, the world of work is evolving. So, what does this evolution mean for our collaborative spaces?
The growth of "flexible" and "gig" means more and more companies are augmenting and strengthening their core day-to-day with touchdown spaces, coworking spaces, incubators and other short-term places to work. JLL predicts that coworking and flexible offices will make up 30% of the sector by 2030.
"Flexible space options allow workers and teams to select the right space to perform work each day in a location that will help realize their company's mission and their own ambitions. This is one of the reasons we see so much runway for flex space in U.S. office markets – it addresses several core needs for employers and employees alike." - Doug Sharp, President, JLL Corporate Solutions, Americas
These collaborative spaces need to be smart — smart to embrace raw, real, collaboration despite the pressure of a faster, more complex world. Here are­­ 3 ways to win when creating collaborative spaces (in any type of office environment):
1 - Inspire through light, color and biophilia
Because work is incredibly interconnected and multifaceted, it's also loud with noise. The right environmental cues and design elements help each of us sustain the energy needed to cut through this noise and create work that's worthwhile. Rely on the basics: natural light, biophilia, intentional uses of color — color that energizes. Natural light and greenery, in tandem, invigorate the mind while color influences us emotionally. Carefully chosen hues do a good job of setting the mood for open, enthusiastic communication and idea sharing.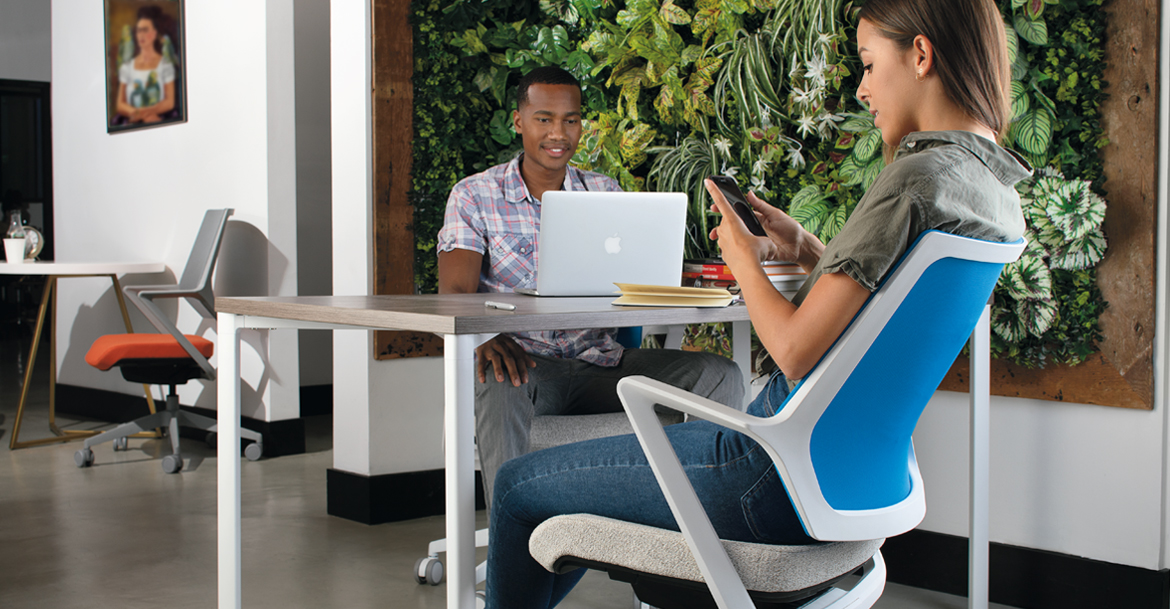 2 - Select solutions fit for hybrid work patterns
Because we alternate frequently between collaborative and focused work, the spaces we move from (and to) should foster a seamless, continuous flow. All the tech, tables, chairs and more should help carry on work without interruption. For example, the weight-activated mechanisms and integrated lumbar support on Mavic adapts to the user's natural movement without the need for constant adjusting.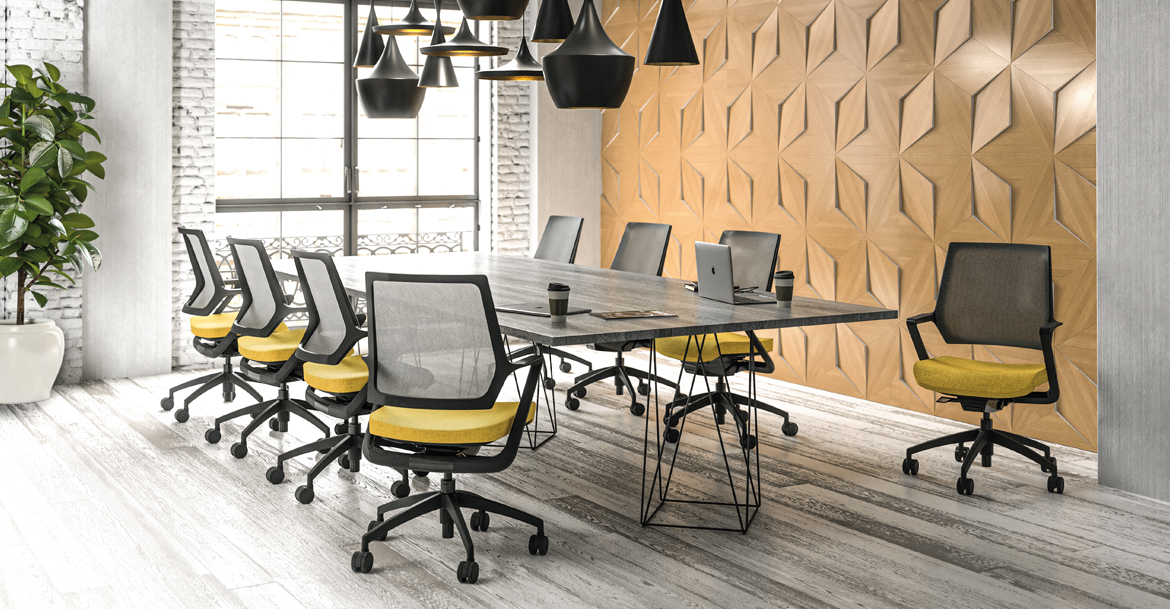 3 - Less is always more (especially for innovation)
The big, if not biggest, tenet of collaboration is that inspiration strikes wherever and whenever it wants. So, when it does, we must be able to respond — before the window of opportunity slams shut. That's why the best advice is the timeless adage: less is more. Why? Because it's dependable. It doesn't stand in the way of connecting. Too much technology, endlessly adjustable chairs, walls covered in decorations – they can all be obstructions to the inspiration and innovation we seek when we collaborate.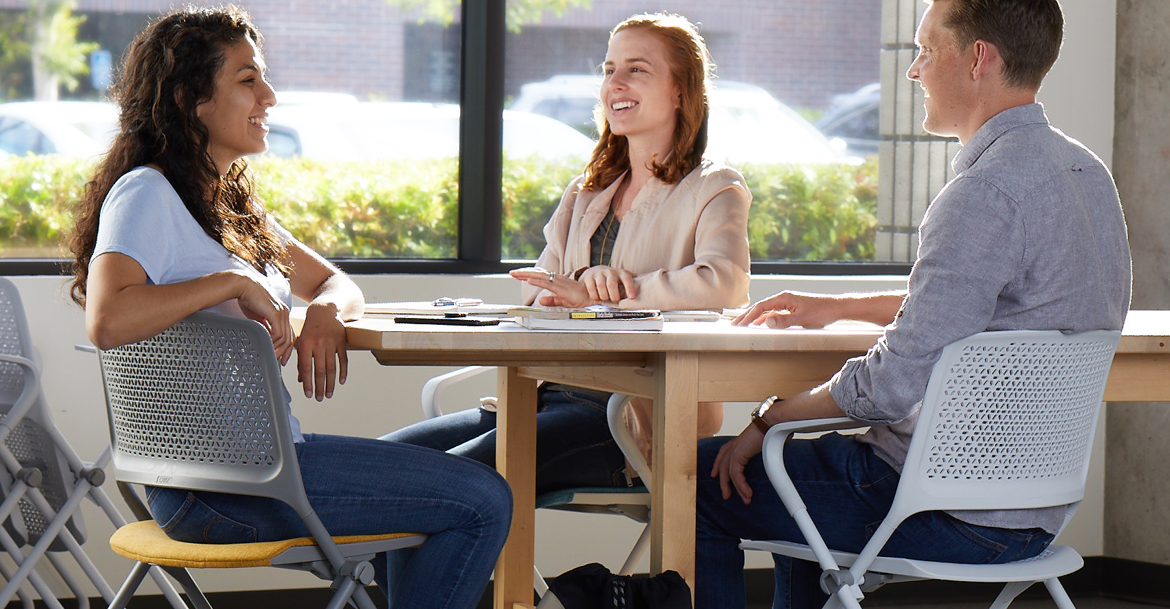 Collaboration is about breaking through. Because we're all moving fast, doing more with less. To win, we need to make sure our solutions are smart, flexible and made to be uncomplicated in a complex working world.
Discover our portfolio of products designed for collaboration.